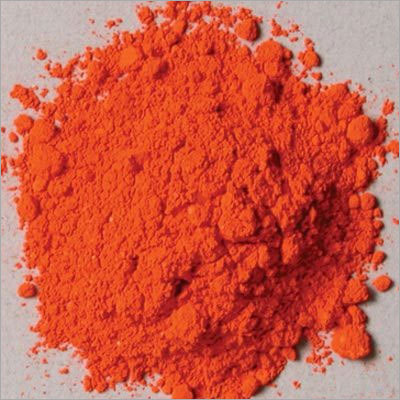 Red Lead Oxide
Product Description
Red Lead is a bright red to orange, red powder which is used in making Lead glass and red pigments; paint made with Red Lead is commonly used to protect iron and steel from rusting. Chemically, Red Lead is Lead tetra oxide, Pb3O4, a water-insoluble compound that is prepared by the oxidation of metallic Lead or of litharge (Lead monoxide). The commercial product sometimes contains litharge as an impurity.
Red Lead primer is one of the oldest and most commonly used anti-corrosion pigments applied to metal surfaces. Orange-red in color, Red Lead forms the prime coat for most of the largest bridges in the world. Red Lead is also used as primer for most of the intricate steel structures of buildings built in the 20th century. Resistant to even salt water, Red Lead was liberally applied to the hulls and decks of millions of ships. Typically, 85% Red Lead (Lead concentration = 85%) was applied to these steel surfaces. Later, Red Lead primers containing as much as 95% to 98% Lead were used.
Red Lead is virtually insoluble in water and alcohol. However, it is soluble in hydrochloric acid present in stomach, therefore it is toxic when ingested. Red Lead is used to a certain extent in the ceramics and glass, paints and pigments and explosives industries.
Red Lead Typical Specifications:
ATTRIBUTE
RED LEAD


JOINTING GRADE
SETTING GRADE
NON-SETTING GRADE
Colour
Orange Red to Brick Red
Orange Red to Brick Red
Brilliant Orange Red to Brick Red
Crystal Structure
Spinal Structure
Spinal Structure
Spinal Structure
Thermal Stability
500 ° C
500 ° C
500 ° C
Specific Gravity
9.1
9.1
9.1
Retention on 240 mesh IS Sieve(63 micron) (max %)
0.25
0.15
0.15
Apparent Density (Scott) gm/cc
1.6 to 1.8
1.3 to 1.6
1.2 to 1.3
Matter soluble in water (in %)
0.3
0.3
0.3
Water Absorption mg/gm
90 to 100
90 to 110
100 to 110
Acid Absorption mg/gm
160 to 170
150 to 160
130 to 150
Volatile Matter at 105°C (in %)
0.2
0.2
0.2
Oil Absorption %
6-7
6-7
6-7
Free Lead (% Max)
Traces
Traces
Traces
PbO2 (in %)
15.1 to 25.1
25.2 to 33.2
33.3 and above
Pb3O4
43.0 to 72.0
72.1 to 95.0
95.1 and above
Total Lead Oxide
99.5
99.5
99.5
Uses
Boiler & Water Pipe Line
Lead Acid BatteriesHeat proof glassesCeramicsOptical glassesFluorescent tubes
Surface coatingStorage batteriesCeramicsRubber & plastics
Moisture Content (% Max)
0.05
0.05
0.05
Purity (% Min)
99.97
99.97
99.97


Contact Us
59/20, Saidpur Industrial Area, Sonipat, Haryana, 131001, India
Phone :+918037304346